The 20-mile Burke River Trail will follow the south side of the Catawba River, dipping down to the small towns of eastern Burke County. The hiking and biking trail will be a mix of natural surface, crushed cinder and paved as it wanders along the river banks and into downtowns.
Communities along the trail will reap trail benefits such as increased economic activity, bike and pedestrian transportation, improved citizen health. Each municipality will have direction over their trail segment and will highlight what makes their area special.
Big Picture: The Burke River Trail (blue dots) will connect to 3 State Trails: Fonta Flora State Trail (purple dash west to Lake James), the Wilderness Gateway State Trail (large pink dot SMSP to Valdese) and the Overmountain National Historic Trail (pink/purple dash). Huge loop opportunity!
It also co-locates with many Upper Catawba River Paddle Trail access points.
---
Trail Status as of Spring 2022
Wide Corridor Feasibility Study Complete (broad pale yellow)
Trail on the Ground – 2 miles in Valdese (green)
Route Being Pinned Down with landowners – 8 miles: Morganton, Rhodhiss, School Board (yellow)
Specific Feasibility Studies Needed in Municipalities: Drexel, Rutherford College, Connelly Springs, Rhodhiss, Long View, Hildebran
Helpful Info
Segments: Regional trails are often built in segments as stakeholders along the path are able to contribute and as right of ways are obtained. With Valdese Lakeside Park's 2-mile greenway being engineered, one segment can be announced – McGalliard Falls Park to Valdese Lakeside Park. Growing from there to the east, the potential exists to work with Burke County BOE and Draughn High School and then Natural Land Alliance, Inc. This gives a 4-mile segment to branch out from.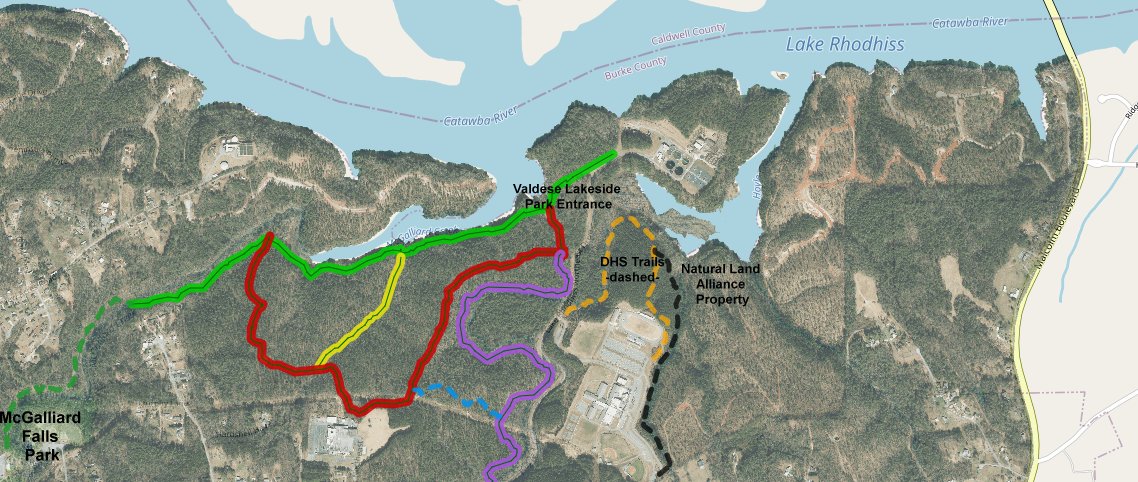 Representative Blackwell first presented the idea for the trail and has been active in meeting with stakeholders and contacting agencies impacted by the trail (NCWRC, Duke Energy, etc).