Communities along the trail are eager for trail benefits (increased economic activity, bike and pedestrian transportation, improved citizen health) to come their way. Each municipality will have direction over their trail segment and will highlight what makes their area special.
Other Connections: The Burke River Trail (green dots) will connect to or cross 3 State Trails: Fonta Flora State Trail (purple dash west to Lake James), the Wilderness Gateway State Trail (large pink dot SMSP to Valdese) and the Overmountain National Historic Trail (pink/purple dash). Huge loop opportunity!
It also co-locates with many Upper Catawba River Paddle Trail access points.
What is happening now?
It is up to each municipality to continue to work on their segment and hold trail easements (Sample Greenway Easement)
Beth Heile is currently coordinating efforts among stakeholders.
Todd Stroupe with WPCOG will update the map as needed
COG is willing to help with grant assistance as long as admin time can be programmed into the grant.
Helpful Info
Segments: Regional trails are often built in segments as stakeholders along the path are able to contribute and as right of ways are obtained. With Valdese Lakeside Park's 2-mile greenway being engineered, one segment can be announced – McGalliard Falls Park to Valdese Lakeside Park. Growing from there to the east, the potential exists to work with Burke County BOE and Draughn High School and then Natural Land Alliance, Inc. This gives a 4-mile segment to branch out from.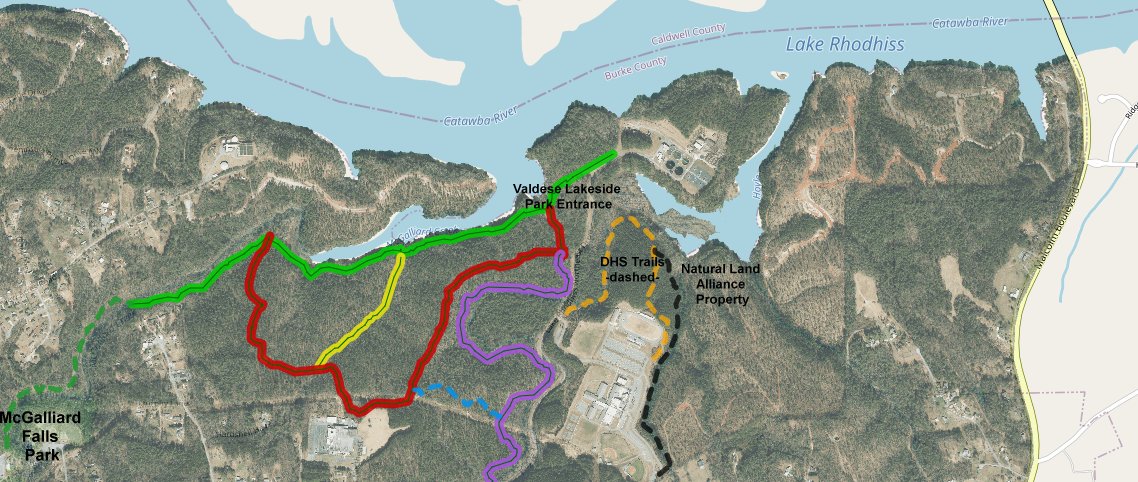 Representative Blackwell first presented the idea for the trail and has been active in meeting with stakeholders and contacting agencies impacted by the trail (NCWRC, Duke Energy, etc).